Agnes Charlesworth - "a serene exercise that can be very Zen-like at the same time. That's what i love about it."
Agnes Charlesworth and "Ola Blanca", her Echo shell, row the waters of southern Maine.
Agnes is a petite music teacher/sound artist who grew up in a sailing family.
First boat purchase: a kayak at age 45.
"The kayak was great, it got me on the water - but since I've been rowing sliding seat 3 to 4 times a week for two years now, I rarely get into my kayak. Staying healthy is important to me, I see rowing as my lifetime sport. It makes you physically strong, is empowering and very social - not to mention great exercise, working my body from tip too toe with a fully body workout."
"When people ask me about rowing, I tell them it's a serene exercise that can be very Zen-like at the same time - that's what I love about it. While rowing you get into this steady, rhythmic stroke... which propels you in a wonderful gliding motion on the water. That combination seems particularly appealing to people right now who want to exercise in a peaceful way."
"Rowing allow me to get into nature and not be on the edge of it peering in. I gravitate toward sports that require little to no extra gear - rowing an Echo gives me that."
Agnes Charlesworth
Linda Smiley - "I was so intrigued and inspired"
Linda rows her Echo 'Lil Red' on the Merrimack River and coastal Maine
"For me, it all started when I read Rowing to Latitude by Jill Fredston. Yep, that's when I officially got the bug. Then I met Jill at a book signing and discovered she's no bigger than me at 5'2" and she braved the waters off the coast of Alaska in a rowing shell. I was so intrigued and inspired."
"I've never seen myself as a strong upper body strength paddler and, as an avid cyclist, always wished I could make more use of my strong legs when out on the water. After hearing from friends about the 'Zen' experience of rowing, I decided to give it a try and began to look for a boat that I could easilly car-top and launch without a lot of extra gear or hassle. I found the Echo to be light weight, very stable and quite seaworthy. Also given the ease of the folding rigger system - this was the boat for me to venture out into he ocean."
"My best trip was with a group of kayaking friends on a week-long trip to mid-coast Maine. I was the only rower - and it worked out great. We discovered how compatible we were, and it was so easy navigating and having conversations with them because we were looking in opposite directions. All agreed that paddlers and rower were a great match!"
Linda Smiley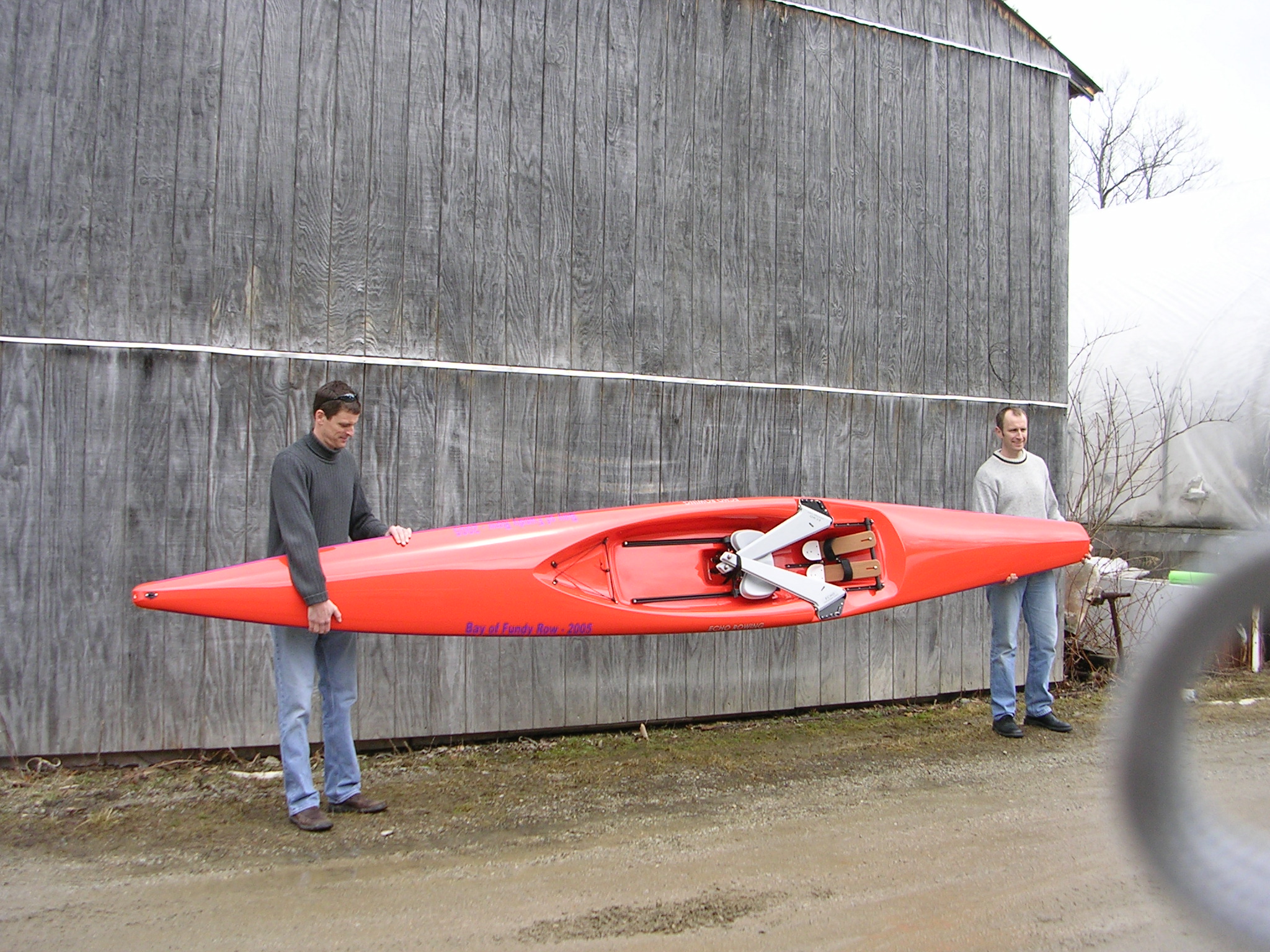 The Echo design earned it's highest mark in racing when two National Champion rowers, Peter Schwab of the USA and Peter Oxley of Canada successfully raced each other in Echo Classics across the Bay of Fundy over a twelve hour endurance race. The race started in Digby, Nova Scotia, with a final race destination of St. John, New Brunswick, a 50 mile crossing as the crow flies. Spanning two complete tidal changes and nearly 100 feet of rise and fall with the tide, the tide's current took them twelve miles sideways with the incoming tide, and then 12 miles return with the outgoing tide. Keeping a steady eye on their compass heading for St. Johns, Nova Scotia, the two arrived at their destination after traveling nearly 75 miles, 50 miles by their own efforts and 25 miles by the tide's efforts. Their accomplishment in our Echo is a tremendous testament to the capability of our fine all water rowing designs.